Does your entrance meet the current AODA codes?
Ontario has mandated all public buildings be fully accessible by 2025, so are you prepared?
We've come a long way over the years in making buildings accessible for people with disabilities.
However, more work needs to be done and Ontario has just scripted a new and unique chapter in its accessibility journey and its Human Rights Code.
You see, the Accessibility for Ontarians with Disabilities Act (AODA) was established in 2005, and the province became a first in Canada to pass legislation that will develop mandatory accessibility standards with the goal of identifying, removing, and preventing barriers for people with disabilities in key areas of daily living. The aim now is to make Ontario fully accessible to people with disabilities by 2025.
Disability impacts the lives of many Ontarians, and the numbers of people with disabilities is increasing as the population ages. Today, over 15% of Ontario's population has a disability, including more than 40% of people over age 65. About 1.85 million people in Ontario have a disability. That's one in seven people. Over the next 20 years, as the population ages, the number will rise to one in five Ontarians. More than half of the population has a friend or a loved-one with a disability and is influenced by them when deciding which businesses to solicit.
"Improving accessibility is not only the right thing to do, but also the smart thing to do," contends the team at Ironstone Entrance Technologies Inc. in Brantford, Ontario. "Since our company's inception, we have been busy working with clients in scores of sectors to help ensure that their buildings are fully accessible for everyone. It's hard work but we are all moving in the right direction in helping remove barriers and giving everyone access they deserve as human beings." Ironstone Entrance Technologies Inc, March 2022
For over a decade, Ironstone Entrance Technologies Inc. have been creatively working to make Ontario communities barrier-free. Ironstone Entrance Technologies Inc. have been installing products and servicing residential and commercial properties alike, with easily operable swing doors and sliding doors.
With their sliding, swinging, and revolving doors, Ironstone Entrance Technologies Inc. allow businesses to accommodate all disabilities, and therefore comply with the AODA and the Human Rights Code. Organizations that allow for maximum accessibility attract more people, both customers and employees, and that's good for business.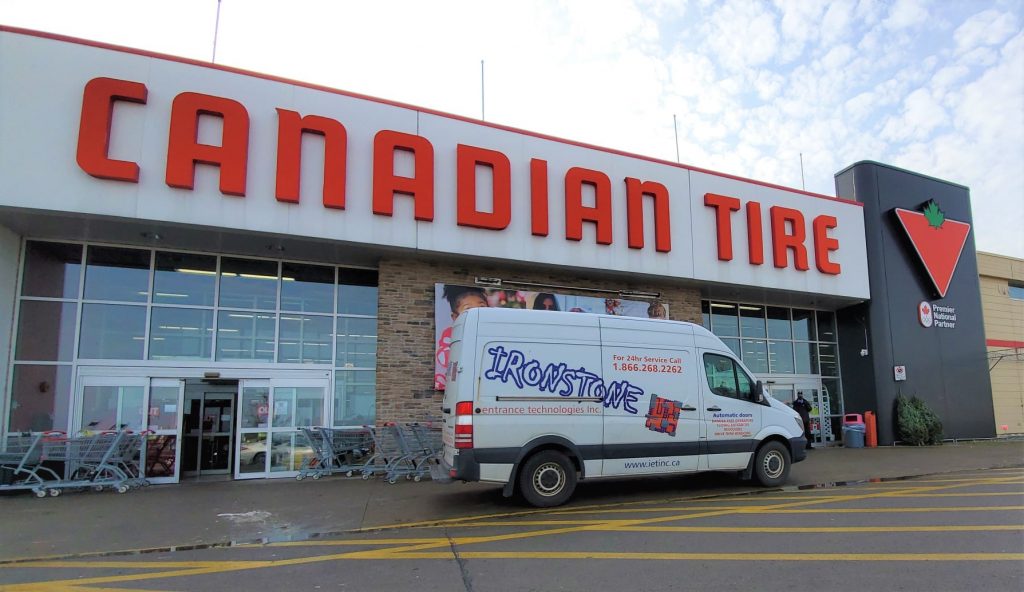 Canadian Tire, Loblaws, Joseph Brant Hospital, Hamilton Health Sciences, Long-Term Care Facilities and School Boards – these are just some of the organizations in which Ironstone Entrance Technologies Inc. have installed accessible doors. These organizations have made a commitment to having their buildings easily accessed by the mom with the stroller, the elderly man in the wheelchair, or even just someone with their hands full.
Ease of access for everyone is what truly makes a building inclusive.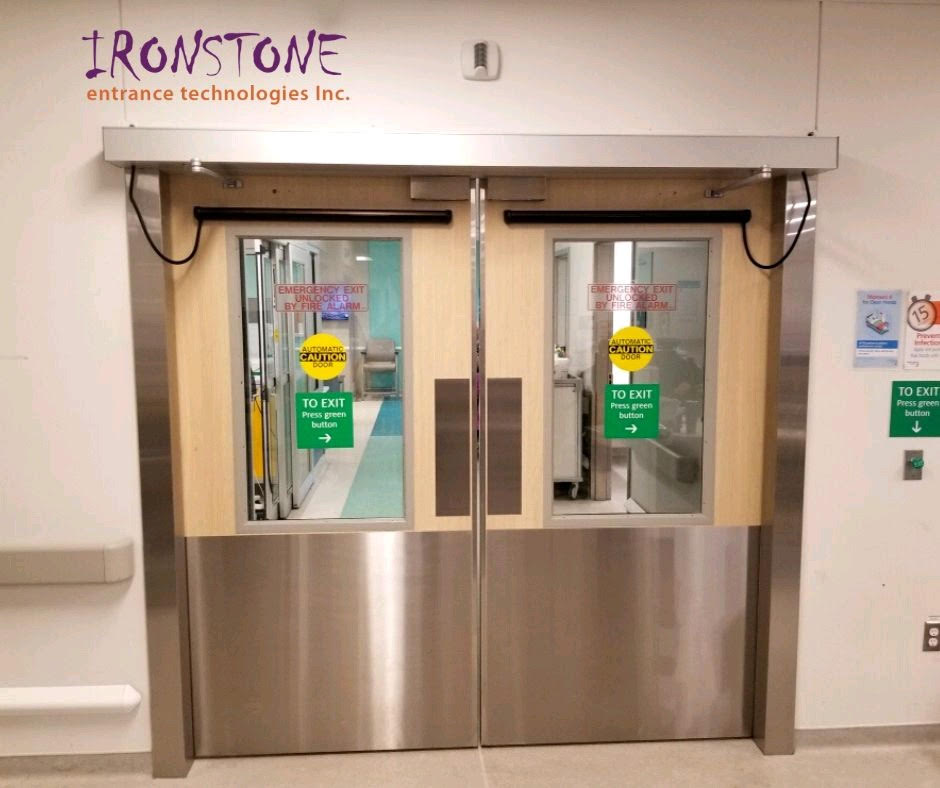 Ironstone Entrance Technologies Inc. is also a proud member of the Rick Hansen Foundation. The mission of The Rick Hansen Foundation is to promote "an inclusive world where people with disabilities are living to their full potential."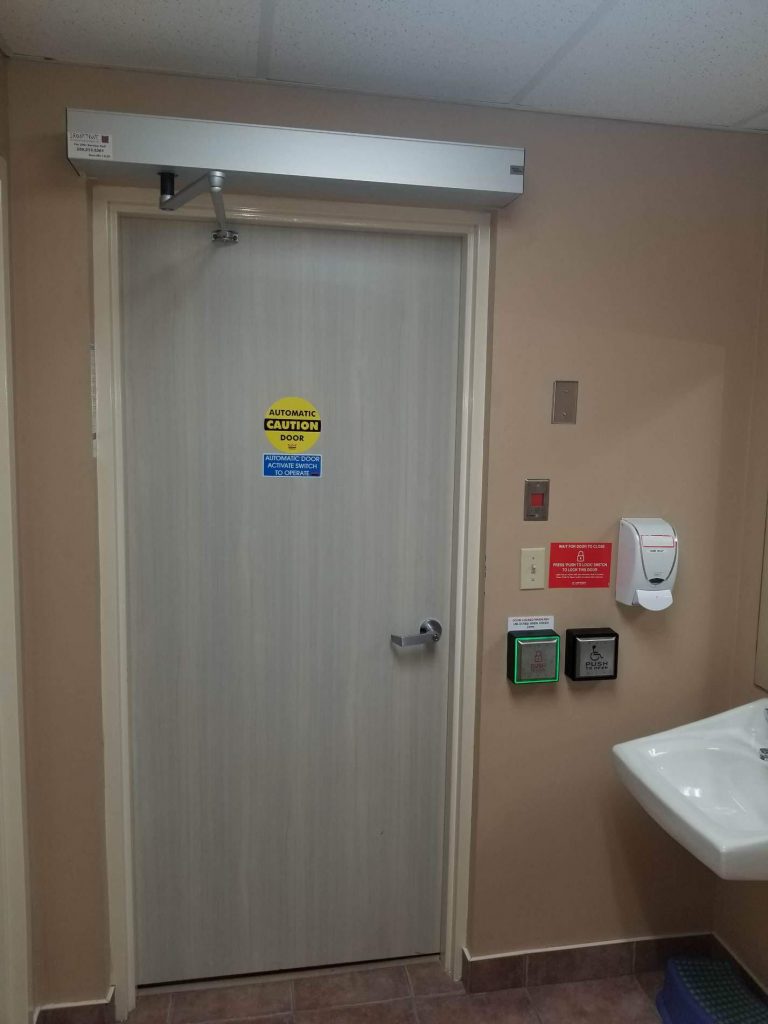 The Rick Hansen Foundation Accessibility Certification (RHFAC) is a national rating system that measures and certifies the level of meaningful access of buildings and sites, ensuring that businesses comply with the AODA.
With the push of a button, the wave of a hand or simply a sensor, Ironstone's products will safely slide or swing when you need them to.
Ironstone Entrance Technologies Inc. is the biggest distributor for dormakaba – a leading manufacturer of automatic doors in the Americas and world-wide.
As the first impression of any business, the entrance is imperative to gaining and retaining customers. Superior customer service, creative technology and technical expertise are how Ironstone Entrance Technologies Inc. is making the community more accessible for everyone.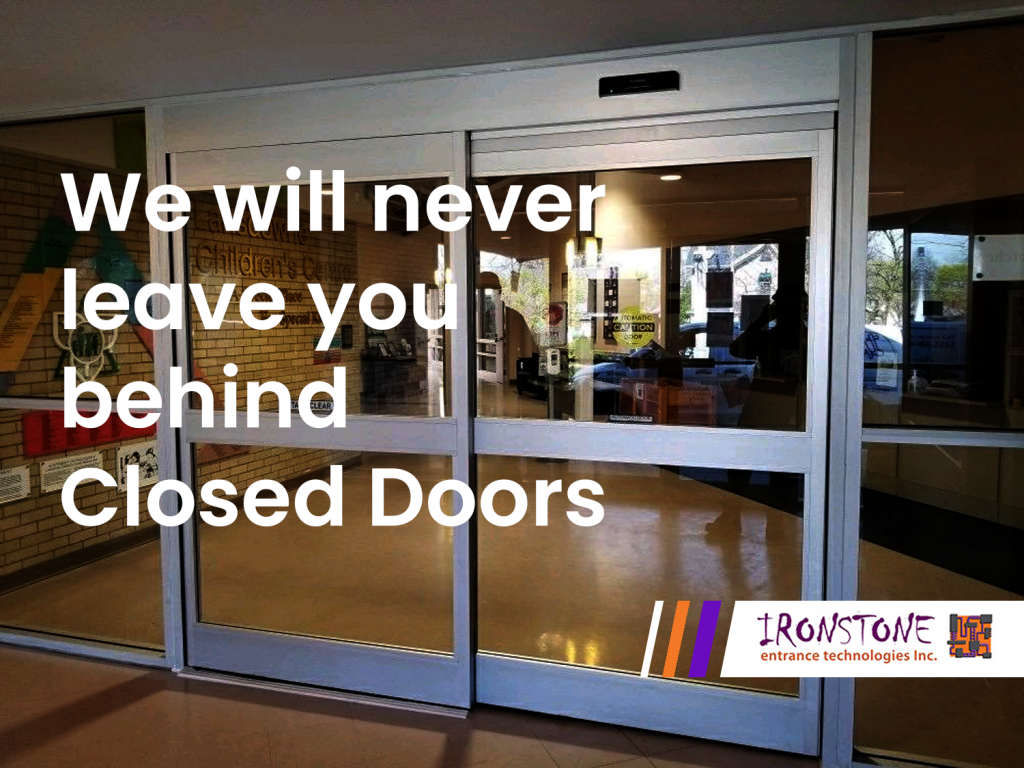 For many, "entrance" is just a word. At Ironstone Entrance Technologies Inc., "entrance" is a way of life.
Contact the team at Ironstone Entrance Technologies Inc. today and learn how they are automating businesses one door at a time and how they are making our world more accessible for people with disabilities.
Ironstone Entrance Technologies Inc. is a family run business that has built a reputation in the automatic door industry for over a decade. We Specialize in Surpassing our Customers Expectations.
Choosing Ironstone Entrance Technologies to service and maintain your automatic entrance systems means you can be confident of the efficiency and reliability of the operation of your doors.